YMCA OF THE UPPER PEE DEE presents Beyond the Green Golf Tournament!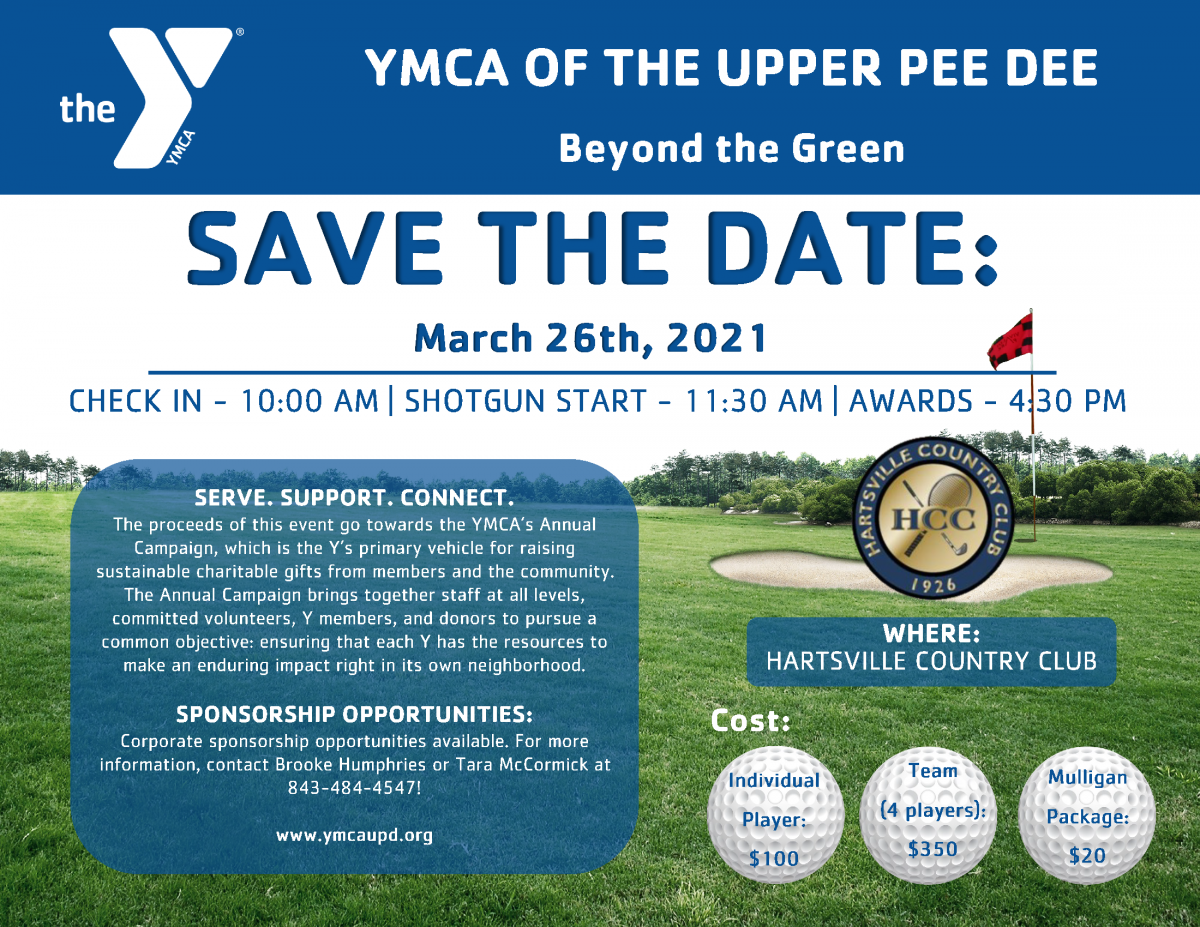 We are excited for our Beyond the Green Golf Tournament. Our dedicated staff is promising an amazing golf tournament for you to enjoy! We'd like to invite you to come out for a day of fun and make new traditions with us in this community fundraiser.
This tournament is for everyone. Athletes young and old, seasoned or novice, can come together on the golf course to chip away in a fun, friendly competition to benefit the Hartsville community.
On behalf of the Y, we thank you for your continued support and ask that you consider sponsoring the event this year. We will offer valuable hole-in-one opportunities along with additional contests for exciting prizes!
Tell your friends, invite special guests, or sponsor the event. You won't be disappointed with our fun-filled tournament!
WHEN:
March 26th, 2021
COST:
Individual Player: $100
Team (4 players): $350
Mulligan Package (each mulligan package includes 4 mulligans, 1 for each player): $20
WHERE:
HARTSVILLE COUNTRY CLUB
SERVE. SUPPORT. CONNECT.
The proceeds of this event go towards the YMCA's Annual Campaign, which is the Y's primary vehicle for raising sustainable charitable gifts from members and the community. The Annual Campaign brings together staff at all levels, committed volunteers, Y members, and donors to pursue a common objective: ensuring that each Y has the resources to make an enduring impact right in its own neighborhood.
SPONSORSHIP OPPORTUNITIES:
Corporate sponsorship opportunities available. For more information, contact Brooke Humphries or Tara McCormick at 843-383-4547!
TITLE SPONSOR: $3,000
· 4 players in tournament (1 Team)
· Sponsor listing on all signage
· 1st and 18th Hole Sponsor
· Recognition on YMCA website and social media
· Recognition banner to be placed at tournament
· Logo on all tournament marketing materials
EAGLE SPONSOR: $1,500
· 4 players in tournament (1 Team)
· Hole sponsor sign on golf course
· Recognition on YMCA website and social media
· Recognition banner to be placed at tournament
· Logo on all tournament marketing materials
BIRDIE SPONSOR: $1,000
· 4 Players in tournament (1 Team)
· Hole sponsor sign on golf course
· Recognition banner to be placed at tournament
BEVERAGE CART SPONSOR: $500
· 2 Players in tournament
· Company logo on the beverage cart
· Recognition banner to be placed at tournament
TEAM SPONSOR: $400
· 4 players in tournament (1 Team)
· Hole sponsor sign on golf course
HOLE SPONSOR: $100
· Hole sponsor sign on golf course
· Many thanks from your friends at the Y